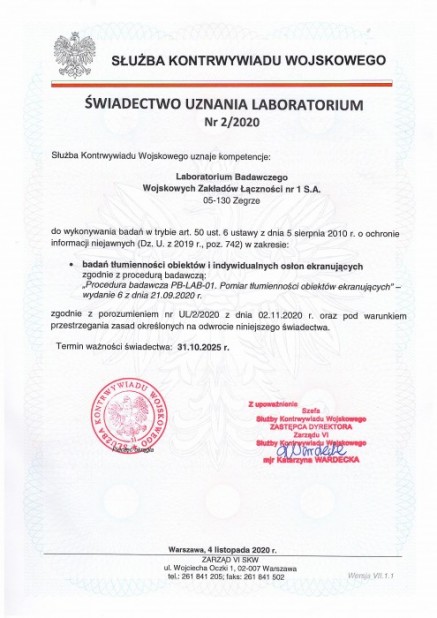 New unique competence of Military Communication Works No. 1 in Zegrze
The Military Communication Works No. 1's Research Laboratory has obtained Laboratory Certificate of Recognition No. 2/2020, issued by the Military Counterintelligence Service. Based on the certificate obtained, we are authorized to test sound attenuation for facilities and individual attenuation shielding covers. The above enables performing a full range of tests for stationary and mobile systems, as well as military equipment representing the ICT segment in the area of processing classified information.
WZL-1 based in Zegrze is the only Company in Poland to have such competencies. This strengthens PGZ Group's potential in the field of cybersecurity.
The Certificate of Recognition enables the execution of facility tests based on the ensuing defense standards:
Defense Standard NO-06-A-201: 2009 / A1: 2018 - Attenuation Requirements of Shielding Objects.
Defense standard NO-06-A-501: 2009 / A1: 2018 - Attenuation Test Methods of Shielding Objects.