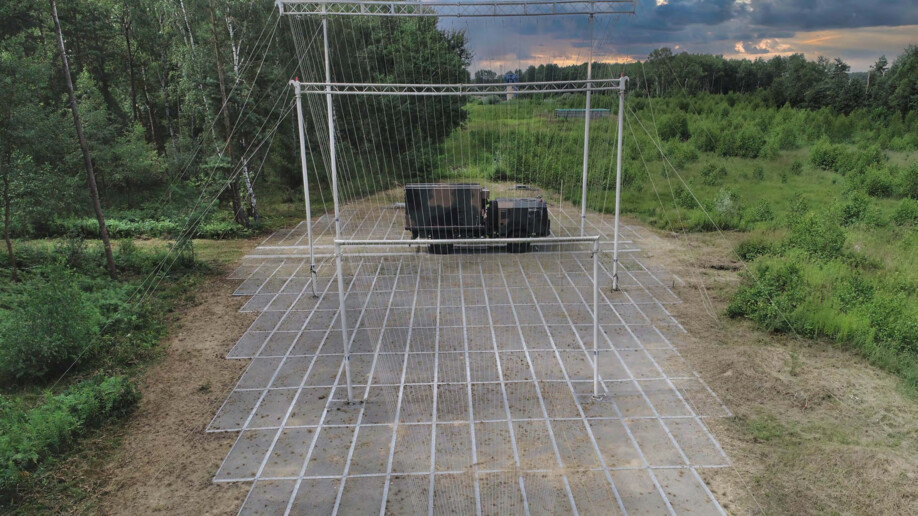 WZŁ-1 S.A. has the first accredited Laboratory testing the resistance of military equipment to electromagnetic pulse in Poland
The Testing Laboratory of Wojskowe Zakłady Łączności Nr 1 S.A. in Zegrze, by virtue of the Minister of National Defense's decision dated Dec 23, 2021, obtained an accreditation certificate for NEMP (Nuclear Electromagnetic Pulse) resistance testing. Tests are conducted, inter alia, on military equipment such as artillery weapons, tanks, missile units, special vehicles for military and police applications, as well as other equipment.
Electromagnetic pulse testing can be performed on two NEMP test stations: indoor and outdoor.
The indoor NEMP test station is a fixed solution designed to test objects that fit within the dimensions of 0.45×0.45×1 m.The stand is easily assembled and dismantled. It provides protection for personnel and measurement equipment, and is ready for use 365 days a year, regardless of weather conditions.
The outdoor NEMP test station enables testing objects within the dimensions of ca. 3 m (width) × 9 m (L) ×4 m (H) and a maximum weight of up to 60 metric tons. The station is characterized by its mobility. The measurement shelter provides protection for personnel and measurement equipment. The set can be used at average daily temperatures of +5 °C (+41°F).

Both stations are operated in line with the following standards: NO-06-A103, NO-06-A107 in accordance with MIL-STD-461 /RS105,NO-06-A200, NO-06-500 in accordance with MIL-STD-461/RS105; the methodology applies to procedures KRS-03 and PRS-03.